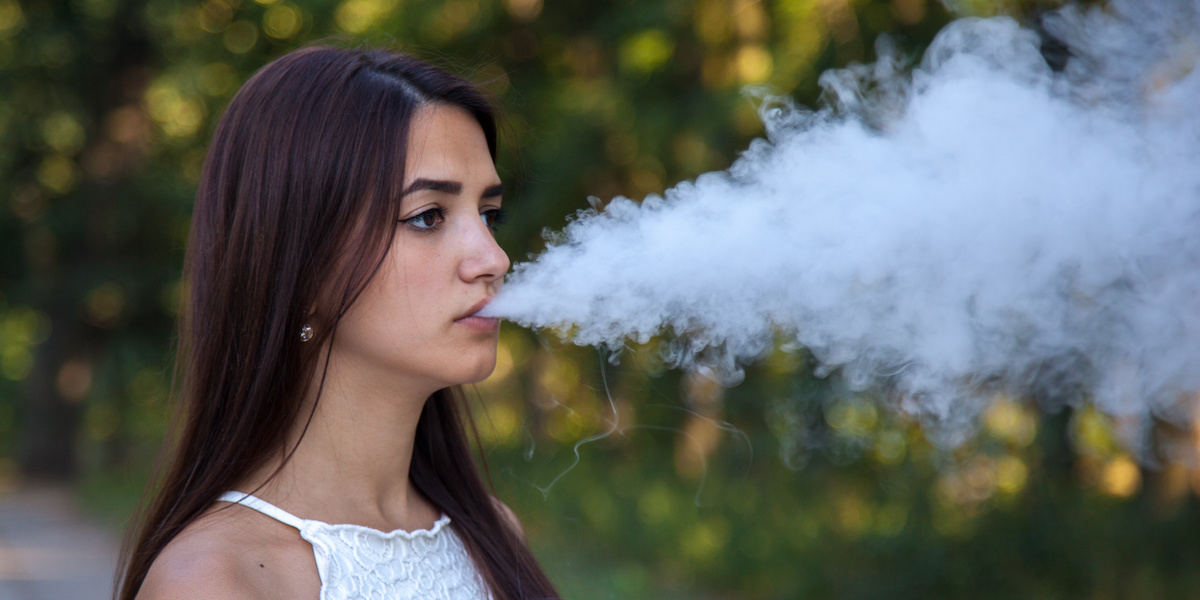 "Everyone who works with kids is deeply concerned about the increase in nicotine use with kids. Vaping is not only on the increase (even with all the bad press) but it's extremely dangerous. For years, nicotine use among kids has been on the decrease. Not anymore. Vaping has changed all that. My good friend and colleauge Jim Liebelt has written an excellent on vaping that every parent must read."
Despite declines in teen cigarette use over recent years, parents should be aware that teen use of e-cigarettes has become part of today's youth culture scene. An e-cigarette is a device that turns nicotine, flavorings and other chemicals into an inhalable vapor. The use of e-cigarettes is known as "vaping," and users are known as "vapers." With the legalization of marijuana in many states, vaping solutions containing THC, the psychoactive chemical found in marijuana, are available in the marijuana marketplace. The vaping trend is drawing increased scrutiny, warnings, and crackdowns on e-cigarette sales to teens from public health experts and government agencies.
According to recent information from the Journal of the American Medical Association, 28% of high school students and 11% of middle school students have reported vaping in the previous month, more than doubling the numbers identified just three years ago. The U.S. Food and Drug Administration has called teen nicotine vaping an "epidemic," with approximately 5.3 million teenagers having used e-cigarettes.
In light of the epidemic of teen vaping, federal and state governments are scrambling to regulate, restrict, and research the vaping industry. When e-cigarettes appeared on the market in the early-2000s, little was known about the chemical make-up of vaping liquids and there were no governmental regulations. So, in a real sense, the genie was let out of the bottle without knowing much, if anything, about who the genie was. Today's challenge to local, state and federal governments is to put the genie back in the bottle. It's proving to be an extremely difficult process. The availability of vaping products has spread beyond traditional retail outlets, to off-market/black-market products that may be sold from small tobacco shops, marijuana retail stores, and can be purchased easily online.
Vaping-related lung illnesses and deaths:
In mid-2019, a surge of vaping-related lung illnesses and deaths were reported. As of October 2019, almost 1900 lung illness cases had been reported along with 37 deaths. People under the age of 24 accounted for more than half of the deaths.
Since e-cigarettes have been available since the early-2000s, the sudden onset of vaping-related illnesses and deaths seemed irregular and set government officials scrambling to find answers.
The CDC has reported that 86% of patients with vaping-related lung illnesses reported using vaping products containing THC, the psychoactive chemical found in marijuana. Initial research has suggested a culprit: vitamin E acetate found in off-market/black-market THC vaping liquids as the chemical responsible for the lion's share of vaping-related lung illnesses and deaths in the U.S.A. The chemical has not been found in branded e-cigarette vaping liquids.
Governmental reactions:
Due to the combination of concerns over youth e-cigarette use leading to nicotine addiction and the vaping-related lung illnesses and deaths, governments quickly ramped up efforts in 2019 to enact bans (to one extent or another) on the use of vaping products.
According to a WebMD online article, Are Vaping Bans the Way to Go? by Kathleen Doheny, at least nine states have taken action to restrict or ban e-cigarettes and other vaping products: California, Massachusetts, Michigan, Montana, New York, Oregon, Rhode Island, Utah, and Washington. Lawsuits challenging the bans have been filed in all of these states. Preliminary injunctions blocking the bans have been granted in some states. Only in Massachusetts, Rhode Island and Washington are vaping bans still in effect.
Globally, in September 2019, the government of India banned all aspects of the e-cigarette market including manufacturing, import, export, and sales, citing public health concerns for youths.
More research:
These days, new research findings are being frequently released. A sampling of a few of the new findings are briefly outlined below.
Many teens are unaware of nicotine in e-cigarettes. A 2019 report found that 63% of teen Juul users (the most popular e-cigarette on the market) did not know that the product contained nicotine.
E-cigarette flavors attract teens. An early-2019 study by the University of Southern California found that 9 of 10 teens involved in the study vaped fruit, candy, and other non-traditional flavors and those that vaped flavored e-cigarettes are more likely to continue vaping and to be heavy users. Another USC study found that mint e-cigarettes were the most popular flavor among teens in 2019.
One in three high school e-cigarette users have also vaped marijuana. A 2018 study which surveyed over 20,000 high school and middle school students about vaping, found that among e-cigarette users, one in three high school students and one in four middle school students had also vaped marijuana.
Teen e-cigarette use is not a gateway to smoking. A late-2019 study has suggested that adolescent e-cigarette use does not lead to tobacco smoking. The findings revealed that lifetime and current e-cigarette use did not significantly increase the risk of current conventional cigarette smoking.
What should parents know and do?
• Adolescence is a season of experimentation for teenagers. With the rise of the popularity of vaping by teens, teens are increasingly facing temptations to experiment. A teen's closest friends are extremely influential during these years of experimentation. One report from the U.S. Centers for Disease Control and Prevention and the U.S. Food and Drug Administration showed that nearly 40% of teens who use e-cigarettes led them to try vaping themselves. Parents should be proactive to know their child's friends, as these provide a window of understanding into your teen's values, behaviors, and temptations.
• Nicotine is an extremely addictive drug, and one of the most heavily used addictive drugs in the United States. It activates brain circuitry that regulates feelings of pleasure and provides the body with a "reward" sensation. Whether or teen realizes the fact or not, e-cigarettes almost always contain nicotine. The Juul device, popular among teen vapers, contains nicotine.
• While federal and state governments are scrambling to ramp up research and enact regulations pertaining to vaping products, manufacturers are still somewhat unregulated in the U.S., and many e-cigarette products are made outside of the country and imported into the country. Some product tests have shown the presence of unhealthy chemicals and metals in e-cigarette vapor, which may be dangerous when ingested by humans. And dangerous vitamin e acetate has been found in some marijuana vaping liquids, a chemical used to dilute THC content. But because of the variety of manufacturers, particularly in off-market/black-market products, it has been very difficult to scientifically determine the exact chemicals (other than nicotine) that are generally contained in the vapor.
• Other recent research has found that e-cigarette use appears to be a gateway to marijuana. Refer to the recent research noted above.
• Understand that if your teen vapes, or is interested in experimenting, they have many avenues for obtaining vaping products. Their access is not limited to walking into a traditional retail outlet. They may also have access via friends and online websites.
• Make discussing vaping a topic of discussion with your teens. Ask them about the attitudes concerning vaping among their friends and peers.
• Set clear expectations and consequences on vaping.