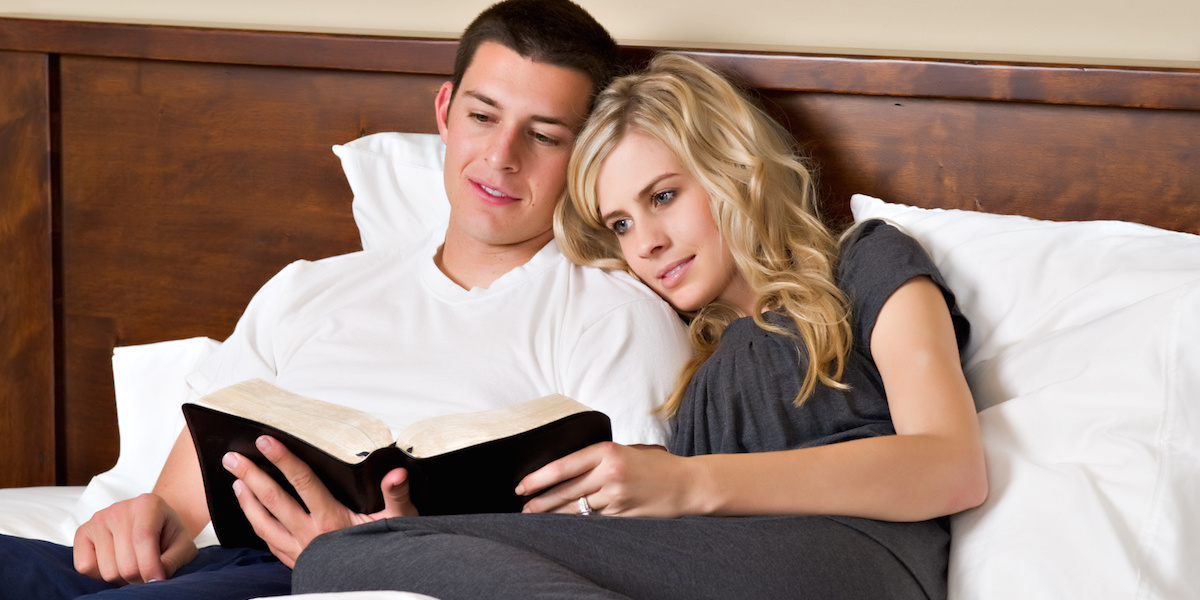 Serve one another in love. —Galatians 5:13
Helen and Lee have one of the finest marriages we know of. They are in their late sixties, and there is still a sparkle in their eyes as they look at each other. They constantly hold hands, and you can tell their love has grown over the years, not diminished like that of so many couples.
One time at a marriage conference, we asked them, "How do you keep your marriage relationship so strong and refreshing?" Helen looked at Lee and Lee smiled. He took her hand and spoke to her, not to us, "Do you remember what I told you the day of our wedding?" She smiled back and said, almost bashfully, "Of course." He said, "I'm going to out-love you every day of our marriage." Helen looked at Lee and said, "And what did I say to you?" She answered her own question, "No, I'm going to out-love you every day." Only then did they focus on us and say, "They're not fancy words, but we have really tried to live by that promise to each other."
Marriage is not a 50/50 proposition. It's about mutual submission and being a servant lover even when we don't feel like it. In the healthiest of marriages there are seasons when it is more like an 80/20 deal, but that just comes with the territory. Showing honor to each other is about being proactive and intentional with your commitment to serve your spouse. Nobody said it would be easy, but with effort it can be done. Your marriage is worth it. Outdo one another in showing love daily.
Neither of us would at first think we are selfish lovers. We tend to be people pleasers and will try to walk the extra mile even when it isn't healthy. Yet we have found this concept challenging because we have often placed too many expectations on each other. Your spouse can't read your mind. The most effective way to share your needs is to spell out those needs to your spouse.
During a tough time at work, our friend Tom asked Kim not to bring up job problems too late at night. It would get his mind spinning and he was having trouble sleeping. Kim needed to bring up the work-related issues for her own peace of mind, but she honored Tom's request by applying self-discipline to the situation and asking when would be a good time in the next twelve hours to have a talk about work. He was much more ready to tackle her questions over morning coffee. That's just a simple illustration of being a servant lover rather than a selfish lover.
Put all you can into your relationship. You will see results, and even if you don't right away, you will know you are doing what is right. Relationships that try to "serve one another in love" are the ones that are the most long-lasting and fulfilling.
FAITH CONVERSATIONS:
• Are there situations right now that make it difficult for you to show me respect? Are there times when it is difficult to love me?
• The Bible says, in Ephesians 5:25-33, "Husbands, love your wives… and the wife must respect her husband" (emphasis added). This Scripture speaks specifically to a wife's need for love and a husband's need for respect.
– Husband: How can I love you more effectively?
– Wife: What are specific ways I can show respect for you?
A STEP CLOSER:
Take time now or in the next few days to talk through these four questions. We have found them to be very helpful in improving our relationship.
• What is right about our marriage?
• What is wrong about our marriage?
• What is confusing about our marriage?
• What is missing from our marriage?
(Excerpted from Closer: 52 Devotionals to Draw Couples Together by Jim and Cathy Burns; Bethany House, 2009.)